Hilted is back at it again with another round of fun and ridiculously cute animesh pets for your enjoyment.
This time around?
A Dik Dik.
And before someone screams that is not an animal, let me how you a real life Dik Dik…..
A dwarf antelope found on the dry savanna of Africa, the female of which is larger than the male.

So, it's a smol deer found in Africa that just happens to have a silly name.
But, moving on before we fall into a lapse of absolute shenanigans.
Hilted made the Little Dik Dik for their item over at the Okinawa Summer Festival this round and you can pick them up in a fat-pack of 3 colors which include black, grey, and brown..
Did I mention before that it was Animesh?
You're gonna need an Animesh friendly viewer to see them, otherwise you're gonna looklike nightmare fuel when you wear it. They move, walk, and fly around with you and the idle stand is the cutest!
But, let me tell you one of the CUTEST things about them, other then themselves, obviously.
ACCESSORIES.

Yes, that's right, you can buy accessories for your little Dik Dik.
Is you Dik Dik cold?
Buy it the scarf pack.
Does your Dik Dik desire flowers?
You can buy them a crown pack and even flowers that sit nicely on their little horns.
Buy them some legwarmers and pull of an 80's jam session with your little Dik Dik.
Is your Dik Dik hungry?
There is a flower pack for munching,
And my personal favorite, give your Dik Dik a cute little bow for its tail!
Each pack is 49$L -99$L each and come with several color choices in each pack.
Okinawa just opened, but you should go down and grab a Dik Dik as soon as possible!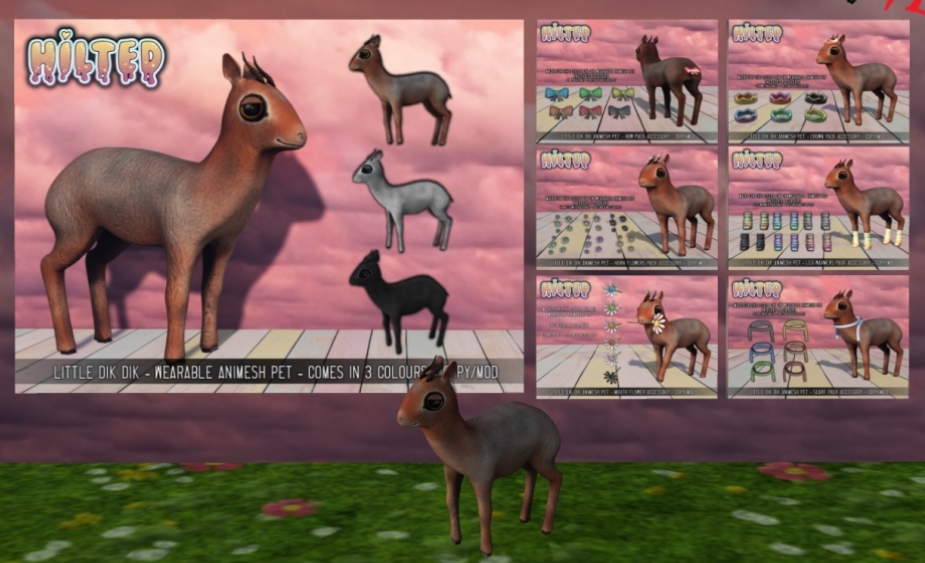 Poses/Props/Location –
Pose: FOXCITY. Late Night-7
†
Backdrop: RAMA – #selfie_RAMA Palm Springs RARE
†
Taken At: Backdrop City
___________________________
Body/Makeup –
Head: LAQ Bento – Scarlet 3.05 (Omega Installed)
†
Skin: Essences – Powder Pack June 2019 (LAQ)
*LAQ PowderPack JUNE*
†
Hair: ###CHAIN – Siren Hair (RARE LOOTBOX)
*Past Lootbox prize*
†
EEyes: .euphoric ~Kumi Eyes Collection ~[Laq]
*LAQ PowderPack JUNE*

______________________________
Makeup –
Palette: #ADORED – powder pack laq – march 2k19
*LAQ PowderPack MARCH*
†
Tattoo: THIS IS WRONG Cheeky tattoo
__________________________
Accessories –
Dikdik: HILTED – Little Dik Dik – Black/Brown/Grey
*Okinawa Summer Festival*
199$L 3 pack of colors.
49$L/99$L Accessories packs.
†
Stockings: SynCo – Fatpack – Moonstone Glitter Stocking – Lara
These actually twinkle!
†
Septum: Astara – Triple Septum 1
*Mystical Market*
5$L hunt prize.
Unrigged with 5 metal colors included.
†
Nose Stud: Astara – Little Heart Nosestud
†
Earrings: SynCo – Tapered Ear Spike
†
Rings: anxiety%T(A)LOTP [atavan rings] SLV_MAITREYA
_______________________
Clothing –
Violent Seduction – Iki's Look Gacha.
*Epiphany*
75$L per play with 31 commons and 1 rare to collect.
1 VIP points prize available.
Violent Seduction – Iki's Look Bag (Pink)
Violent Seduction – Iki's Look Beret (White)
Violent Seduction – Iki's Look Boots (Pink)
Violent Seduction – Iki's Look Dress (RARE)