I saw the newest releases from Anxiety and I knew I needed them right away.
Anxiety, if you haven't guess already, is one of my favorite stores in SL.
Everything they make is stunning and there is always a mix of things you'll find.
From the art deco pieces in this set to the vibrant neon in others and everything in between, Anxiety has something for everyone.
I picked up the new Lugna set, which is out over at the Level event and knew I wanted to make a setup with it. They partnered with Fourth Wall to bring together these gorgeous set.

The Lugna set is available in 3 sofa color options (Black, white, Grey), each at 699$L and includes 65 bento animations (single, couple, cuddles, threesome) or you can fat-pack the 3 colors and get a HUD with changes to your pillows, blankets, upholstery, and legs for 1,299$L.
You can pick up a coffee table for 199$L and that comes with a metal change HUD with 3 colors. The rug is 99$L, and there is also a hanging lamp to complete the set for 199$L.
Fat-pack everything for 1,499$L and get all the goodies and then some!


Poses/Setup –
Pose: FOXCITY. Moody-1 (Fatpack exclusive)
†
Skybox: anxiety %nouveau apartment
Collabor88
Cam Shopping Sim 1
Cam Shopping Sim 2
388$L
†
Couch: [FOURTH WALL X ANXIETY] Lugna Sofa – Black
* Level *
699$L per color with 3 colors available. Fat-pack it for 1,299$L
†
Table: [FOURTH WALL X ANXIETY] Lugna Table
* Level *
199$L amnd includes color change HUD with 3 metal colors
†
Rug: [FOURTH WALL X ANXIETY] Lugna Patterned Rug
* Level *
99$L
†
Bookcases: [Con.] Mobile Library – Black
Collabor88
Cam Shopping Sim 1
Cam Shopping Sim 2
88$L per color with 7 options available.
†
Sideboard/Letters:
[FOURTH WALL] Industrial Sideboard
[FOURTH WALL] Typography Decor
*Gacha Prize*
†
Chess/Tea/Book pile: anxiety % Meeting place gacha
anxiety %the meeting place [loaned books]
anxiety %the meeting place [tea and cookies]
anxiety %the meeting place [chessboard]
*Gacha Prize*
†
Daddy/Spitroast Pillows: Faen – Latex Cushion – Black -Daddy/Spitroast *FAT-PACK EXCLUSIVES*
*Afterglow*
187$L fat-pack of 8 pillows.
38$L per pillow with 4 single pillows available.
†
Bookbag: ..::THOR::.. Vintage Schoolbag Burgundy
*Past gacha prize*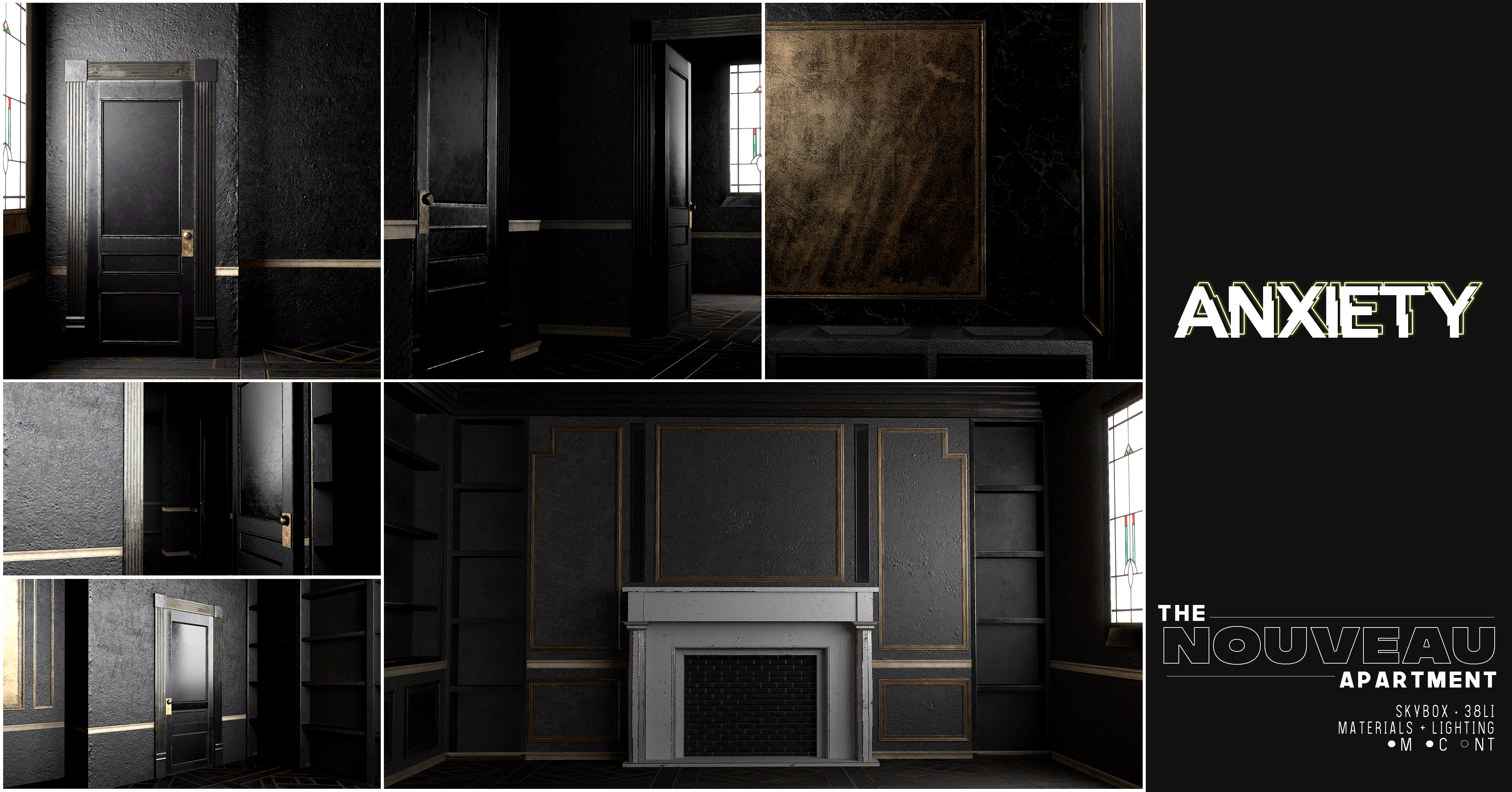 ______________________________________
Body/Makeup –
Head: LAQ Bento – Scarlet 3.05 (Omega Installed)
†
Skin: Essences – Powder Pack June 2019 (LAQ)
*LAQ PowderPack JUNE*
†
Hair: TRUTH/Horizon
*Group gift, 350$L to join.*
Includes fat-pack of colors and styling HUD.
†
Eyes: .euphoric ~Kumi Eyes Collection ~[Laq]
*LAQ PowderPack JUNE*
†
Palette: alaskametro<3 "Black Magic" makeup – FATPACK
_____________________________________
Clothing/Accessories –
Earrings: SynCo – Tapered Ear Spike
†
Outfit: HORNTAIL – [DUSK] Maitreya Maku set
HORNTAIL – [IVORY] Maitreya Maku Shoes
*Gacha prizes*
†
Septum: Astara – Triple Septum 1
*Mystical Market*
5$L hunt prize.
Unrigged with 5 metal colors included.
†
Nose Stud: Astara – Little Heart Nosestud
_____________________________________________________