This post has A LOT of things in it, it also has the outfit I've been wearing for over a week because my blogging creativity went out the window.

RL got busy, I got busy with event planning and blogger managing, and I started creating stupid stuff again.
I made some gamer themed panties for Loading…event. Nothing too spectacular but, hey, I think they are cute at least.
They're 25$L a play, 10 to win, Maitreya mesh body fitted, and there are no rares so, have fun at it! 
But that is not why we're here. We're here because Romp opened up for it's August round and brought some sexy little lingerie to wear and you know me and my lingerie obsession…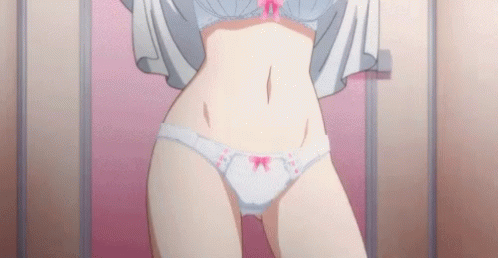 Narcisse provides us with  the first set we're gonna look at, called Lucy.

Lucy includes is a three piece set, bra/panties/skirt. available in 12 colors. 
You can pick up the top for 189$L per color and the skirt/panties combo for 189$L per color. 
I love how shiny in looks with advanced lighting active and how lacy the set is. 
Romp is open until August 25th so you have some time to grab up this sexy little set and more! 
____________________
*Red colored items are last chance items!*
______________________________________________________________________________________________________________
Pose/Prop/Location – 
Backdrop: -Nomi-Devil Lover Set-Room scene(Dark) RARE
*Past gacha prize*
†
Bed: [Dictatorshop] Vindustria Bondage Bed – Adult Kink 1.0a
†
Pose: . Infiniti . – Cuffs pose 8
*Romp*
50$L per pose with 8 poses available . Includes pose prop. 
Fat-pack them 200$L.
________________________
Body – 
Head: LAQ  Bento – Scarlet 3.05 (Omega Installed)
†
Skin: [ RITUAL] – Elspeth Skin -tone 3
*NEW RELEASE!*
†
Eyes: Gloom. – Kawaii 2.0 Collection – Black (Mesh L) L
*Romp*
75$L per color with 9 colors available. Fat-pack them for 495$L.
Includes appliers for Catwa, Lelutka, Geus, and Mesh eyes.
†
Horns: +Artificial Hallucination.+ Cursed Horns 1.0 1
*Okinawa Summer*
299$L fat-pack of colors. Collaborates with Oni Hair from Raven Bell
†
Hair: Raven Bell – Oni Hair [For Horns] F2
*Okinawa Summer*
350$L per pack with 2 mini packs available. 
Includes male and female fitted hair in two versions. 
One for horns and one for without, collaborates with Cursed Horns from Artificial Hallucination. 
Fat-pack it for 700$L.
†
Tongue: [Pirocious] Akaname Tongue V2
_________________________________
Makeup – 
Body Shine: THIS IS WRONG  Kiss Materials Shine – Maitreya/Omega
*Romp*
299$L per body pack (Maitreya, Omega Enhanced, Legacy, Male appliers).
Includes appliers and lighting. Must have advanced lighting active to see. Shows gold on Omega advanced bodies, white on Maitreya.
†
Cheek Mark: 06 – Misschevious – Love Cut Gacha – Babygirl
*Romp*
50$L per play with 8 commons and 2 rares to collect. Includes Omega appliers.
______________________________
Accessories:
Necklace One:  SynCo – Crystal Pendants
*Mystical Market*
180$L and includes Maitreya rigged star and crystal necklaces. 
Includes color change HUD with 10 color options.
†
Body chain/necklaces: MIDNA – Lucy Body Chain [Maitreya]
*Romp*
199$L rigged to Maitreya mesh body only. Includes color change HUD with 10 gem, 12 zodiac, and 4 chain options. 
†
Septum: Astara – Triple Septum 1
*Mystical Market*
5$L hunt prize. 
Unrigged with 5 metal colors included. 
†
Nose Stud: Astara – Little Heart Nosestud
___________________________
Outfit:
Top: -Narcisse– Lucy Lace Bra – ML – Black
*Romp*
189$L per color with 12 colors available, Maitreya rigged only.
†
Skirt/Panties: -Narcisse- Lucy Lace Skirt – ML – Black
-Narcisse- Lucy Lace Panties – ML – Black
*Romp*
189$L per color with 12 colors available, Maitreya rigged only. Includes skit and panties.